How do I return a purchase?

Return a non-defective item
If returns are available for the item and it didn't suit you due to
Size

Fit

Measurements

Style

Colour
or any other parameters, we will take it back! To decide whether or not to keep your order, you will have 14 days (7 days for DENAS devices).
For returns, keep the item in good saleable condition and keep all packaging (for example, inner cellophane packaging, protective membrane, etc.). Please do not use the item until you have decided that you want to keep it.
Returns of non-defective items are possible only for product categories that come with protective packaging elements, and then only if they are not tampered with. Such items are marked on www.faberlic.com with the special icon "Return is possible".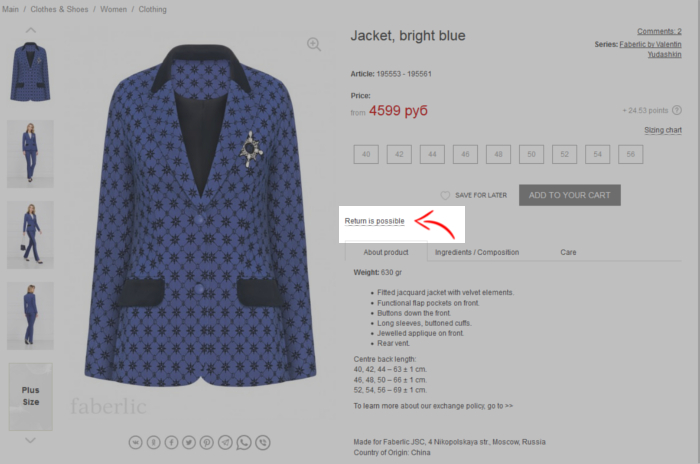 Return a defective item
Returns of items with production defects
Stitching defect

Garment accessories defect

Fabric
damage
If it is not an intentional part of the design, returns are possible for other defects within 30 days of when you receive the item.
Please note! If a defect appears due to improperly trying on items, this is not a valid reason for return.

Conditions for repair and exchange of DENAS products download
Return methods

Orders received at Faberlic Collection points (CP)
Returns are possible only through the CP at which the item was received. Create a claim at the Collection point and give the reason for the return.
The CP employee will check the validity of the return (correct timeframe, item condition at return, etc.) and, if everything is in order according to these rules, will take the item and create a Claim document in the CP account at www.faberlic.com

Orders received at a parcel locker, through the post, or by courier
Returns are carried out through the Russian Post. Print and fill out the return form, indicating the order number, item number, quantity, and reason for return.
Place the return form and any other documents (if necessary) confirming your requirements into a postal container (box, etc.) with the item and send it through the Russian Post to the address: 140961, ASC, Box 151 (for JSC Faberlic).
Additional sending and item exchange is not carried out.

You can download a blank exchange form here
Please note! Payment of postal fees (Russian Post services) is made by the buyer when returning a non-defective item. When returning a defective or incorrect item, the company will compensate you for postal fees. Please keep your receipt for payment of postal fees and inform us of them on the website www.faberlic.com , in a feedback request in the section "3.2 Questions and claims related to address delivery".
Refunds

Refunds
When processing a return at a Faberlic Collection point, funds are credited back to the personal account from which original payment for the item was made* within 10 minutes from creation of the Claim document.
* If the returned item was purchased on a promotion and has a different price in the order (for example, you get one with a coupon and a second at normal price), then the funds are returned according to the lowest price in the order.
If you are returning through the Russian Post, funds will be credited back as soon as the parcel arrives at the warehouse.
When necessary, you can return funds from your personal account to your bank account. To do this, leave a request in the "Feedback" section in your personal account (1.2 Financial issues), and submit a claim.
Transfer of funds
in amounts
up to 10,000 roubles
to a bank account is processed
within 5 days
If the
total amount of the return is
more than 10,000 roubles
the timeframe of the transfer may be
extended to 10 working days

Information about the transfer can be tracked by claim in the "Feedback" section
Additional conditions

Returns of clothing, underwear, and swimsuits
When returning clothing, swimsuits, or underwear, the following conditions must be met:
The item is unworn

and is in completely saleable condition (all tags, factory labels, etc. are intact)

Item is in original factory packaging

(bag, box, etc.) where the corresponding size, labels, and barcodes are shown

Items that come in a set

must be returned as a set

Keep protective film

when returning underwear and swimsuits, be sure that the protective hygenic film on bottoms has not been removed. Do not remove the protective film until you are sure that you will keep the item. Returns and exchanges are not possible if the protective film has been removed!

Returns of shoes
Guarantee period on shoes - 30 days. Please take note of the rules for shoe care that will help them last longer:
Choose shoes in the correct size and width,

checking against the table on the item's page and taking into account the individual characteristics of your foot

Clean shoes every day

remove dirt and dust using a special cleaning product depending on the upper material of the shoe

Dry shoes

naturally, without using heat of any kind

Use a shoehorn

to put shoes on; this will avoid deformation of the heel

Do not step on the heel

when taking shoes off to avoid deformation and separation of the soles

The following are not considered defects:

Staining of lining or inner sole

this is a characteristic of natural leather

Colour change in the material

on contact with water- this is a characteristic of eco leather and textile

Defects that resulted from wear of the item

(scratches, scuffing, deformation)- this is a characteristic of walking certain ways

Guarantee does not apply to the heel cap, laces or other shoe hardware, as they are replaceable parts