Bio products for your home! New products in cat. №19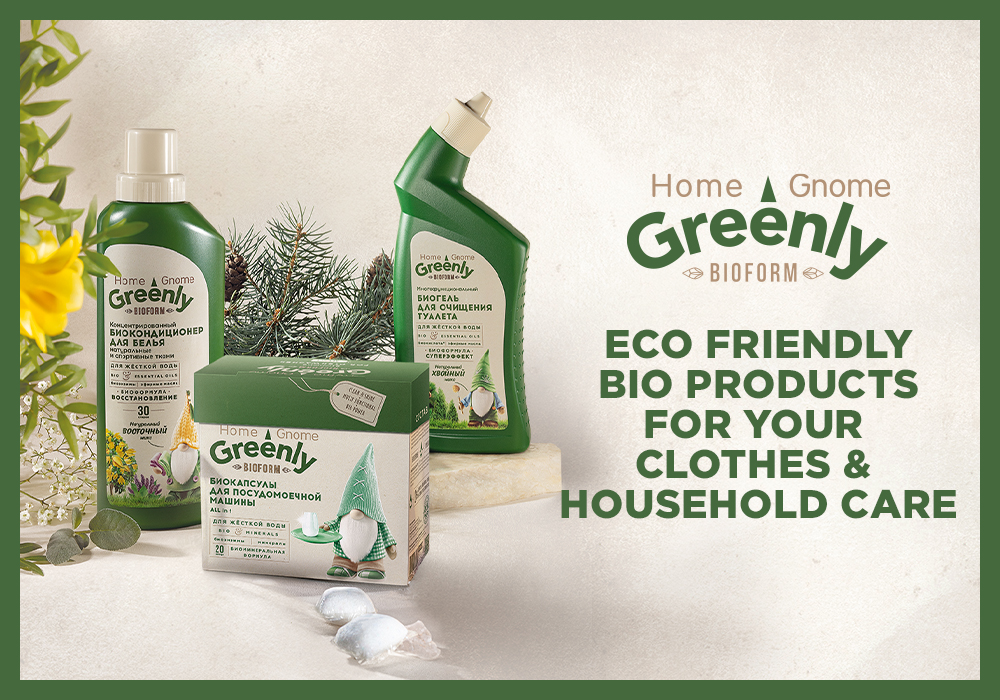 Concentrated bio fabric softeners give your textiles positive energy and softness! The innovative RESTORATION bio formula is recommended for natural, synthetic and even tricky "breathable" athletic materials.
A complex of natural ingredients softens water, and restores and softens fabric fibres after washing. A bioenzyme complex protects against wear, discoloration, shedding, and pilling. An innovative organic polymer improves fibres' absorption properties and maintains the breathability of sportswear.

The Home Gnome Greenly eco-friendly series has a few other new products too:
All in 1 dishwasher biocapsules
These All in 1 biocapsules are produced in the Netherlands by Senzora bv, which has an official predicate – a special approval from the Royal Dutch Court. The capsules do not require additional salts or rinsing aids. They completely eliminate grease, dried food residue, sauces, lipstick, and tea deposits – even in the hardest water. Bio components add shine to dishes and glass, prevent streaks and metal corrosion, and protect your dishwasher from limescale and deposits.

Multifunctional toilet cleaning bio gel
SUPEREFFECT bio formula easily removes unwanted microbes and even old contamination from toilet surfaces. Recommended for cleaning ceramic, porcelain, and acid-resistant metals. The active biodegradable acid complex breaks down heavy limescale, uric scale, and rust, effectively removing impurities under the water and under the rim of the toilet. The bio gel has an antibacterial effect – surfaces are guaranteed hygienic and clean! Essential oils of fir, pine, cedar, blue spruce, and eucalyptus create the atmosphere of a wild evergreen forest and have a healthy, air-cleansing effect.